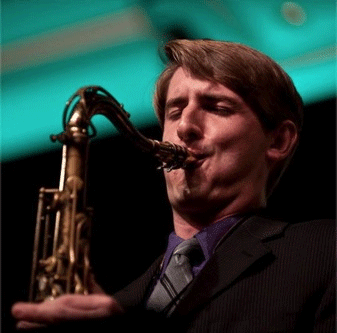 Following in his teachers'(Pete Gallio) footsteps Brian started his Jazz Studies degree at UNT in 2007 where he studied saxophone with Jim Riggs and Brad Leali. He spent three years playing in the school's top jazz ensemble, the Grammy nominated One O'Clock Lab Band, a dream first realized after seeing the band in concert at age 14. During his time in the band, Clancy had the pleasure of touring in three continents, playing alongside Dave Brubeck, James Carter, Kurt Rosenwinkel, Lyle Mayes, and recording 3 full length albums, including Lab 2009, which was nominated for a Grammy in the Best Large Jazz Ensemble category.
In 2011 Brian was the Jazz Saxophone winner of the new Vandoren Emerging Artist Competition which landed him and the other winners a trip to Paris to perform and meet the heart and soul of the company. The following year was a very exciting one for Brian. In addition to being named Outstanding Undergraduate Jazz Soloist in Downbeat Magazine's Student Music Awards and taking first prize in the North American Saxophone Alliance Jazz Competition, Brian saw the release of his debut album, "Introducing Brian Clancy." The recording features some of the wonderful musicians who Brian had the pleasure of getting to know personally and musically during his time in Texas.
Starting in high school Brian felt a pull toward Los Angeles and the musical opportunities it held. After his last semester at North Texas he got a taste of the west coast as a member of the 2012 Disneyland All-American College Band. The AACB program features 21 college students from across the country performing in the park 5 days a week in addition to working with guest clinicians and focusing on the business of music. Shortly after the summer concluded Brian moved to Los Angeles and dove into the music scene head first.
It is no surprise that he has been making waves playing with local big bands as with his own quartet. Already, Brian has established himself as a unique voice and is sought after by band leaders and producers alike. This is the beginning of what is sure to be an exciting chapter in the life of this musician!