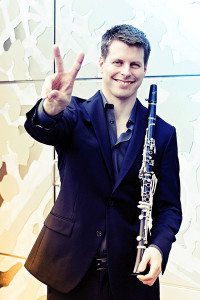 Clarinetist Liam Burke, a recent graduate of The Juilliard School, is currently a fellow with The Academy at Carnegie Hall and Ensemble ACJW. Liam was a recipient of The Juilliard School's prestigious Peter Mennin Prize for Outstanding Achievement and Leadership in Music in 2011. He was also named winner of the Juilliard Clarinet Concerto Competition and Vandoren Emerging Artist Competition in 2011. Liam has appeared as soloist with the Juilliard Orchestra, Music for all National Festival, Aspen Music Festival, Colorado College Summer Music Festival, and Senior Boston Youth Symphony Orchestra.
Liam is also in high demand as an orchestral musician and has performed with the New York Philharmonic, the Mostly Mozart Festival Orchestra, the Orchestra of Saint Luke's, the American Symphony Orchestra, the American Ballet Theatre Orchestra, the New World Symphony and the New York String Orchestra. In 2010, Liam performed as guest principal clarinetist with the Philharmonie der Nationen on their three-week international tour of Germany and the US. He also performed on tour with musicians from The Juilliard School and the Royal Academy of Music at the 2012 BBC Proms.
Liam is an avid chamber musician and performs frequently with the critically acclaimed Ensemble ACJW. He performed in Juilliard's ChamberFest for four years, from 2009-2012. In 2010, Liam was invited to play E-flat clarinet in John Adams' Chamber Symphony at the Kennedy Center with Mr. Adams conducting.
Liam received his Bachelor and Master of Music degrees from The Juilliard School where he studied with Jon Manasse.