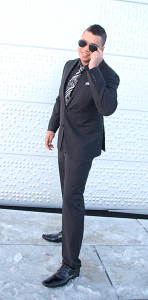 Felix has won multiple contests, such as AOM (local), OM (state), NM (national), UKM (national), and received numerous distinctions, rewards, and prizes. Felix attended the renowned Barratt Dues Classical Institute of Norway and studied classical music with Fredrik Fors (from 2004 – 2008). In 2005 Felix won the National Dream Prize on national television, a distinction that kick-started his early career. As a result, Felix began performing extensively as a featured soloist and a bandleader after receiving massive publicity and recognition in national press.
In 2007 Felix attended Berklee College of Music's Five Week program where he was granted a Full Tuition Scholarship. In 2008, Felix hosted his "Ready For Boston" concert in honor of his acceptance to Berklee College of Music.  In August 2010, Felix hosted his first international tour as a bandleader with his group "The Felix Peikli Quintet" and appeared at venues such as Oslo Jazzfestival, TV2, NRK1, Rica Victoria, and more. He returned the following year (2011) with his group The Felix Peikli Quartet.
When Felix moved to Boston in 2008 he had the opportunity to meet and perform with and for many of todays leading figures in Jazz, such as Frank Tiberi, Harry Skoler, Terri Lyne Carrington, Danilo Perez, John Patitucci, Greg Osby, Joe Lovano, Dave Liebman, John Clayton, Eddie Gomez, Herbie Hancock, Jimmy Heath, Wayne Shorter, Ralph Peterson Jr., and many more. As the winner of the Vandoren Emerging Artist competition 2012 and as a part of the newly founded honors-program "Berklee Global Jazz Institute" (directed by world renown Danilo Perez), Felix has had a chance to meet many amazing and wonderful musicians worldwide. In 2011, Felix became the sideman in Ralph Peterson Jr.'s world-renowned Jazz quartet Ralph Peterson Fo'tet that was featured on Peterson's latest recording "The Duality Perspective" (Onyx Productions, released in May 2012) receiving amazing reviews. New York Times describes Felix as "A star, basically". Felix graduated Berklee college of Music in May of 2012 with a bachelor degree in Music Performance.