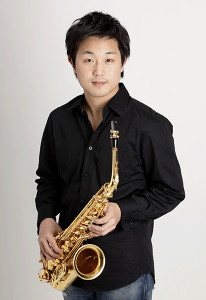 Classical Saxophonist Wonki Lee has distinguished himself as a remarkable saxophonist with his instrumental prowess and keen artistic grasp. He was the first Korean who was ever selected to be one of the 18 semi-finalists in the Adolphe Sax International Competition in Belgium.
As an active concert saxophonist in United States, Japan, and Korea, Mr. Lee has given recitals and performing a wide range of music, including solo premieres and chamber music. He has appeared in Tokyo Wind Symphony Orchestra, Ridgewood Concert Band, New World Symphony, and Bridgeport Symphony. Mr. Lee made his Carnegie Recital Hall debut in February 2008. His live recording of Henri Tomasi Saxophone Concerto was broadcasted on a WQXR radio show. Recently, he has performed the Alexander Glazunov Saxophone Concerto with Maestro Philippe Entremont in New York City.
 Mr. Lee was born in 1989 to Korean parents living in Tokyo. He began to study the saxophone at age thirteen and soon came to New York City, where he spent most of his formative years. His principal teacher was Dr. Paul Cohen at the Manhattan School of Music.
Among his many prizes and awards are the 1st prize for Vandoren Emerging Artist Competition, 1st prize for MTNA Young Artist New York State Competition, 1st prize for Eisenberg Fried Concerto Competition, and 3rd prize for the LISMA International Music Competition.