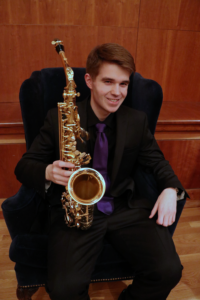 Colin Crake (19), a second-year undergraduate from Fairfax, VA, is pursuing a bachelor's degrees in Saxophone Performance at the Eastman School of Music in Rochester, NY, and studies with Prof. Chien-Kwan Lin. Colin has had a long track record in the competition circuit throughout his career. During his high school years, Colin participated in several national competitions. Most notably, he was selected as a finalist for the 2014 North American Saxophone Alliance High School Soloist Competition. While at Eastman, Colin has impressed several local competitions, most recently being named a winner of the 2016 198th Army Band Solo Competition.
Colin is the tenor saxophonist of Iizuna Quartet, an Eastman-based chamber group which performs a wide variety of both contemporary and tradition saxophone quartet repertoire. Iizuna Quartet was recently featured in the College Quartet Series at the 2017 US Navy Band International Saxophone Symposium.
Colin has performed in masterclasses by Carrie Koffman and PRISM Quartet. He has previously studied with Prof. Edward Fraedrich. Colin is currently a member of the Eastman Wind Orchestra under the direction of Dr. Mark Scatterday. He is also a member of the prestigious Eastman Saxophone Project, the first saxophone ensemble to perform without a conductor and from memory.